"Have you ever danced with the Devil in the pale moon light?"
-The Joker (Jack Nicholson in Batman)
For several decades, the Joker was maybe the most definable super-villain in all of popular culture. His iconic look, facetious attitude, and troubling history were standard knowledge among ten-year-old boys. But, not in a million years could creator Bob Kane have imagined where Hollywood would take the Batman character—much less the Joker. Over time, outgoing comic creators like Dave McKean, Frank Miller, and of course Alan Moore tried to show just how versatile this clown could be. The possibilities seemed endless and the character's back-story was always changing.
But in 1989, Jack Nicholson and Tim Burton showed the world once and for all the true nature of the Joker. The Joker's creation story fit perfectly with Batman's. To this day, it is difficult for most people to imagine someone besides the Joker killing Bruce Wayne's parents. Jack Nicholson showed the world that the Joker is not a criminal, but simply an artistic lunatic. Not only did the film define the Joker, but Jack Nicholson to a certain extent as well—and this is a man who had been in everything from war movies to B-horror films to existentialist New Wave. After Burton and Nicholson's psycho-pop art interpretation, the Joker seemed untouchable. If someone were to use that character in a film ever again, they would have no choice but to totally re-invent him.
Heath Ledger's portrayal of the Joker in The Dark Knight took the character to its absolute extreme. However, it was also the next logical step in the historical evolution of the character. The criminal clown had been growing progressively more twisted and nihilistic over the years. The Dark Knight portrayed him at his darkest and most malicious yet—not to mention most criminally successful. Conversely, Jack Nicholson's Joker exemplified a total divorce from reality, such that chaos and creative expression were often one in the same. He always seemed very concerned with how he presented himself to people—perfect appearance, witty retorts, making a great entrance and so forth. Yet, for all his twisted planning and scheming, he never came across as terribly evil. The face of Ledger's Joker is chaotic and disheveled, not trying to impress as much as intimidate.
In several respects, Ledger's Joker was very much the opposite of Nicholson's. Despite the continued witty dialogue, gaudy purple suit, and all-encompassing hatred of Batman, Ledger's Joker was actually very grounded in reality. For all his criminal antics, he had no reservations or insecurities about his role in society. "I'm like a dog chasing cars," he confesses, "I wouldn't know what to do if I caught one." Where Nicholson came off as a total psychopath, Ledger portrayed the clown as more of deranged criminal mastermind. But regardless of how grounded in reality he may have been, neither he nor Nicholson ever showed loyalty or respect toward those working for them. As a henchman of the Joker, you are like a screwdriver: expendable, generic, and of limited use.
Despite these traceable character developments, Ledger's Joker was still very much a unique re-invention. He gave the Joker a voice he had never shown before—a voice of self-confidence, of expert criminal intelligence, and of pride in what he does for Gotham City. What he mainly lost from the Nicholson depiction was the overwhelming theatricality. There were only two instances where Ledger's Joker shows his more creative, expressive side (aside from the make-up, obviously). First, in the highly publicized hospital scene featuring Ledger in a nurse's gown and wig. Also, in three different scenes throughout the film, the Ledger's Joker tells three different stories of how he got the scars on his face. Other than that, the "take thy beak from out my heart" Joker is left in the eighties. It is a good thing too, as Ledger could not have executed that sort of role as well as Nicholson.
The two Jokers did, however, share a passion for toying with innocent lives to prove or promote something. There is a scene in The Dark Knight where the Joker constructs a "social experiment," involving two boats out on the River—one full of innocent civilians and one full of inmates. Passengers aboard each ship are given a detonating device that will destroy the other ship. Coming in on both ships' intercom systems, the Joker warns the passengers that their friends on the other ship may not be as noble or rational as they. In a very memorable and riveting scene, the Joker forces the citizens of Gotham to rethink their own priorities.
Somewhat similarly, the famous parade scene from the 1989 Batman shows Nicholson's Joker showering Gotham City in money. "Hubba hubba hubba, money money money, who can ya' trust?!" he exclaims. Even Gotham's two key reporters, Vikki Vale (Kim Basinger) and Alexander Knox (Robert Wuhl), comment on "Gotham's greed." Once the immense crowd has been properly wooed over by the Joker, he confesses that he now plans to kill every last one of them on the spot. Both scenes illustrate the Joker's undying obsession with control.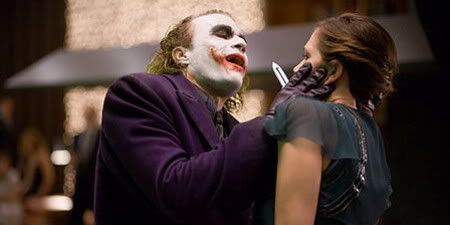 In The Dark Knight, that measure of control is often dependant on the Joker's ability to predict the actions or responses of Gotham's most powerful citizens. At a banquet honoring Gotham's up-and-coming District Attorney Harvey Dent (Aaron Eckhart), the Joker crashes in to find, amongst other VIPs, Dent's girlfriend and assistant Rachel Dawes (Maggie Gyllenhaal). The Joker asks Dawes where Dent is, knowing she will not comply. When Dawes slugs the Joker in the nose, it allows the Joker to create a great scene in front of everyone. As he holds a knife inside Dawes' mouth, he tells one of the three classic stories about how he got his scars. The Joker knows Batman will show up any second, yet all the clown really cares about it creating pandemonium and exerting control.
Once again, this display of male dominance harkens back to a scene from Batman in which Nicholson's Joker forces reporter Vikki Vale to have dinner with him. "What do you want from me?" Vale asks, to which the Joker replies, "Oh, little song, little dance, Batman's head on a lance." The Joker knows Vale will not help him, but interrogates her for the purpose of feeling control and proving his dominance. Both Jokers know they could never beat Batman in a fistfight, so they find other ways to feel on top.
The study of each Joker's relationship with Batman proves yet another interesting similarity between Ledger and Nicholson. The culmination of the two freaks' relationship, in each film, is the point at which they reach an understanding of their similarity. "You complete me!" Heath Ledger tells Christian Bale, in a scene reminiscent of Alan Moore's graphic novel, "The Killing Joke." The Batman equivalent of this is where Jack Nicholson and Michael Keaton realize how they created each other (a bit of a long story, if you are not familiar). An even greater similarity is in why both Jokers get so much enjoyment out of mentally abusing and harassing Batman. Neither would get nearly as much enjoyment out of actually killing Batman, as they do just from seeing how much they get under his skin. Again, the main idea behind both Jokers is a search for control, not a struggle for victory.
Where each Joker goes once they attain that control is where another key difference arises between the two. Ledger's Joker, as seen in both the boat experiment and banquet crash scenes, aimed to prove a point once he had control of a situation. Throughout The Dark Knight, the Joker threatened to continue his rampage unless Batman would remove his mask and reveal himself. Exposing the "winged vigilante" for the mad billionaire he really is would not have killed Batman, but ruin his reputation and give the Joker an immeasurable feeling of control.
At face value, Nicholson's Joker may have seemed more immature in what he sought beyond control. As previously mentioned, the '89 Joker lived by no code of morals or ethics typical of the everyday world. Therefore, it would have been illogical for him to care about actually proving something to Gotham City, like Ledger's Joker. The parade scene with the money illustrated the Joker's lust for control. Once he had that control, we could plainly see his sole use for that control: promoting his own image. The appearance, the theatricality—the very concept of the Nicholson Joker is essentially a vain propaganda campaign. This self-obsessed conformity he of course imposed through Smile-X—a lethal drug that left the victim with "a grin, again and again." As opposed to the Ledger Joker, the Nicholson Joker strove to actually become what Nicholson himself labeled his performance 15 years later, in Esquire magazine: "a work of Pop Art."
In conclusion, the film world is now left in the same predicament as in 1989. If someone were to use the Joker in a film ever again, they would have no choice but to totally re-invent him. Yet, after the differing versions given by Jack Nicholson and the late Heath Ledger, where else could they possibly take that character? Perhaps, some day, some one creative and talented enough will think up a new face for the Joker. Until then, fans are left with two of film history's most memorable performances. The films from which they came will never get old and will still be cherished and discussed when Ben Affleck's Daredevil and Arnold Schwarzenegger's Iceman have been consigned to oblivion. Although Jack Nicholson may be remembered for many things, the film world will forever hear the echoes of Heath Ledger laughing in the dark.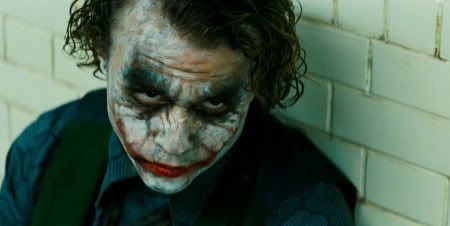 Tags: alan moore, batman, bob kane, bruce wayne, charles thomason, charlie, christian bale, christopher nolan, film, heath ledger, jack nicholson, joker, kim basinger, maggie gyllenhaal, michael keaton, movie, recycled film, review, the killing joke, tim burton, vikki vale